Compatible Phones
3CX Phone Solution
SNOM

delivers the next generation of advanced phones
D7XX Series

- Telephones

Aesthetically appealing and highly practical for all types of businesses
The professional D7XX Series telephones are both aesthetically appealing and highly practical, meeting business requirements when the telephone is a key tool in daily work.
These high performance devices are future proofed and provide the best in Wideband HD audio, ensuring crystal clear sound quality. They are Bluetooth compatible to meet the connectivity requirements of today's offices.
Support for programmable keys ensures a continual overview of numerous extensions. These phones come with the very best in security options as well as a preinstalled certificate to enable secure provisioning of the phone without manual intervention. Snom telephone management and auto provisioning are included, and these telephones support Snom's unique, proven software.
Read More
Preferred IP Phones
These companies work hand in hand with us to ensure a fast response to firmware related matters and test immediately against our latest releases. They are stable and the easiest to support.
Fanvil H Series: H2S, H2U, H3, H5
Fanvil X1 Series: X1(P), X1S(G/P)
Fanvil X2 Series: X2(C/P)
Fanvil X3 Series: X3 (P/S/G/SG/U)
Fanvil X4 Series: X4(G/U)
Fanvil X5 Series: X5(G/S/U)
Fanvil X6 Series: X6-1.2/X6U
Fanvil X7 Series: X7(A/C)
Fanvil X210 Series: X210
Supported IP Phones
These companies support AxiumPro and will generally respond in a reasonably timely fashion firmware related matters. They are stable and easy to support.
SNOM D1 Series: D120
SNOM D3 Series: D305, D315, D335, D345, D375, D385
SNOM D7 Series: D710, D712, D715, D717, D725, D735, D745, D765, D785
Yealink T1 Series: T19(P) E2
Yealink T2 Series: T21(P) E2, T23P/G, T27G, T29G
Yealink T3 Series: T30P, T31P/G, T33P/G
Yealink T4 Series: T40G, T40P, T41S, T41U, T42S, T42U, T43U, T46S, T46U, T48S, T48U
Yealink T5 Series: T52S, T53/53W, T54S/54W, T56A, T57W, T58A/V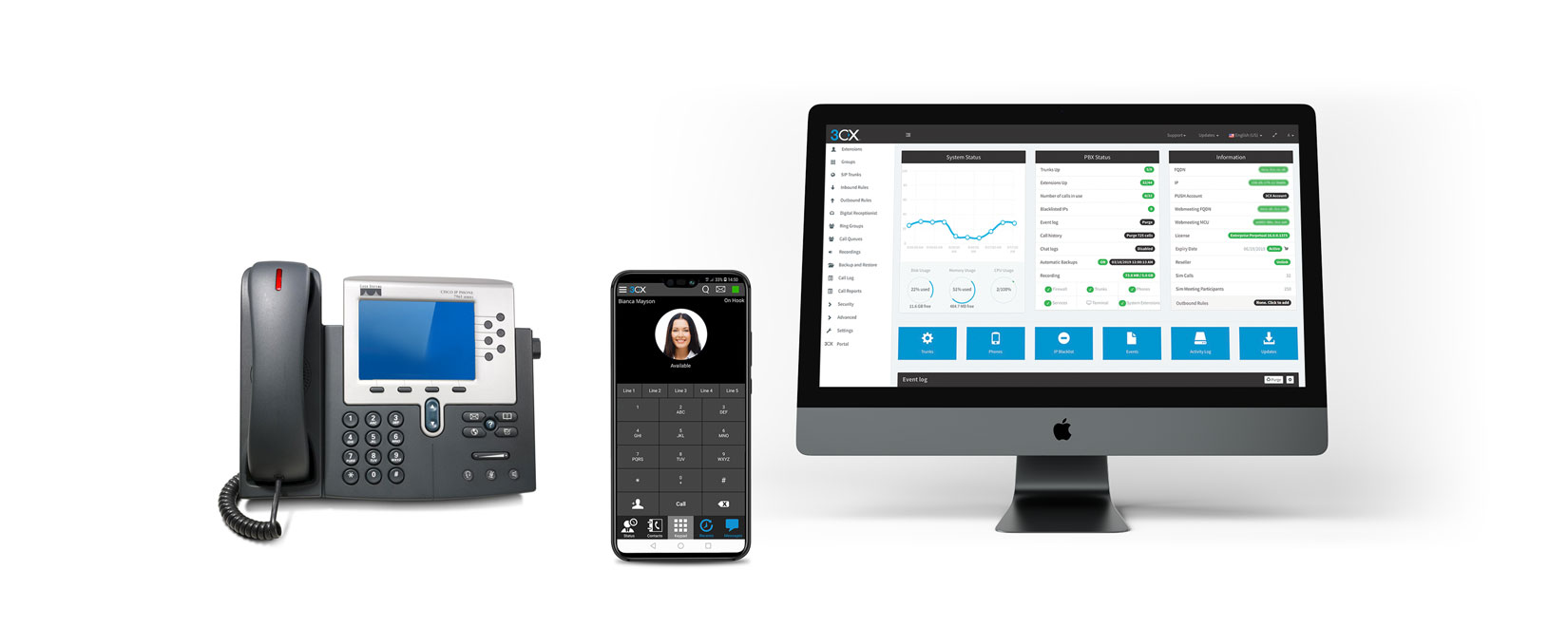 Feature-Rich Hard Phones
Choose from a bunch of feature-rich phone options and styles to meet your business needs and budget.
Android / iOS Compatible
Never miss an office call again. The 3CX apps allow you to manage and use your entire phone system from your Android or iOS smartphones.
Desktop Computer Accessability
Take calls, live chat, web conference with colleges right on your computer. Plus, manage your calls and contacts with your company's CRM system.
Unlimited Extensions
3CX allows you to add unlimited phone extensions at no additional cost per user.
Open Platform
Choose & Control your own phone numbers, cloud provider, hardware, and SIP Trunk.
Transparent Pricing
Cut your upfront, ongoing, and expansion cost significantly compared to your current PBX.
Full Remote Solution
The Android and iOS apps allow anyone to use the 3CX phone system from anywhere with an internet connection.
Easy to Install and Manage
Run 3CX in the cloud or on-premise. Easily manage your PBX phone system from your computer, tablet or smartphone device.
Certified 3CX Engineers
We have a team of certified 3CX engineers to assist you throughout the entire setup process.